For veteran players and novices alike, there's never been a better time to get your hands on high-quality, visually stunning and game transforming M4A4 skins. With the release of CS2, many skins received a refreshed look, and players are flocking to buy CS2 (CS:GO) skins for the best prices.
The M4A4, a full auto assault rifle in the Counter-Strike franchise, is cherished for its accuracy and lethal damaging potential, making it a favourite firearm for the CTs. With accuracy that would make any AK 47 envy, this full-auto assault rifle is one of the best guns in CS2. Assuming you're already a fan of this beloved heavy hitter, then you'll know that the M4A4 is possibly the most important gun in the CT arsenal.
That's why we bring you a list of the 10 best M4A4 skins in the game. Whether it's Asiimov's forward-looking design, the magnificent refinement of The Emperor, or the legendary Howl, each skin featured in this list brings its unique flavour into your CS2 loadout. Here are the top 10 best M4A4 skins currently available in CS2!
1. M4A4 | Asiimov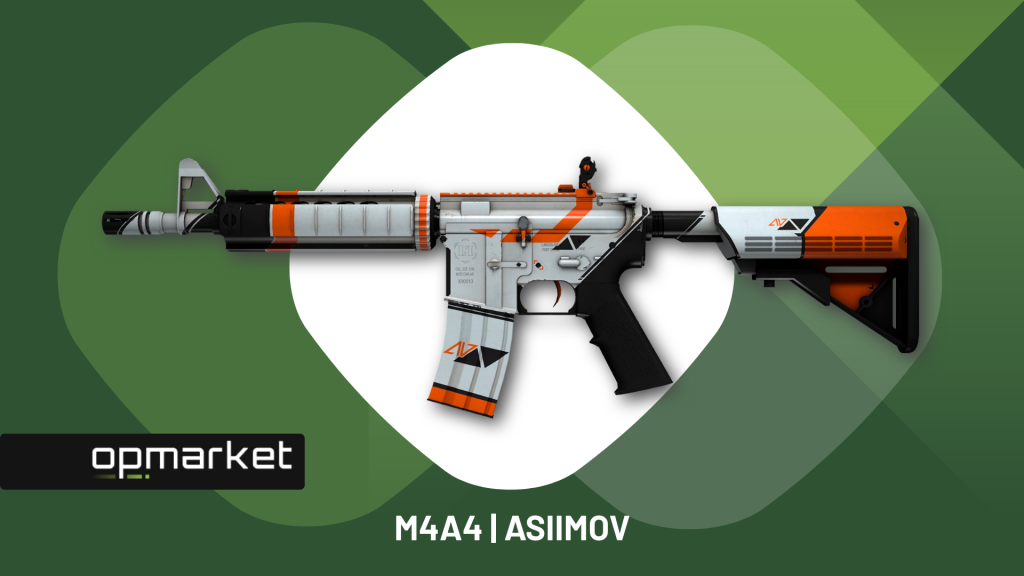 Get ready to transform your ordinary full auto assault rifle into a devastatingly striking weapon with the M4A4 Asiimov skin. This skin features a futuristic aesthetic and has been very often used in competitive CS2 events. The high-quality graphics and exceptional detailing makes it an appealing purchase in the marketplace. Because of its awesome visuals, Asiimov skins are among some of the player's favorite in CS2, and M4A4 is no different.
Flavor text: Anyone can predict the future… a visionary shapes it
Lowest Steam price: $68.41
Drops from case: Winter Offensive Weapon Case
First added: December 2013
2. M4A4 | The Emperor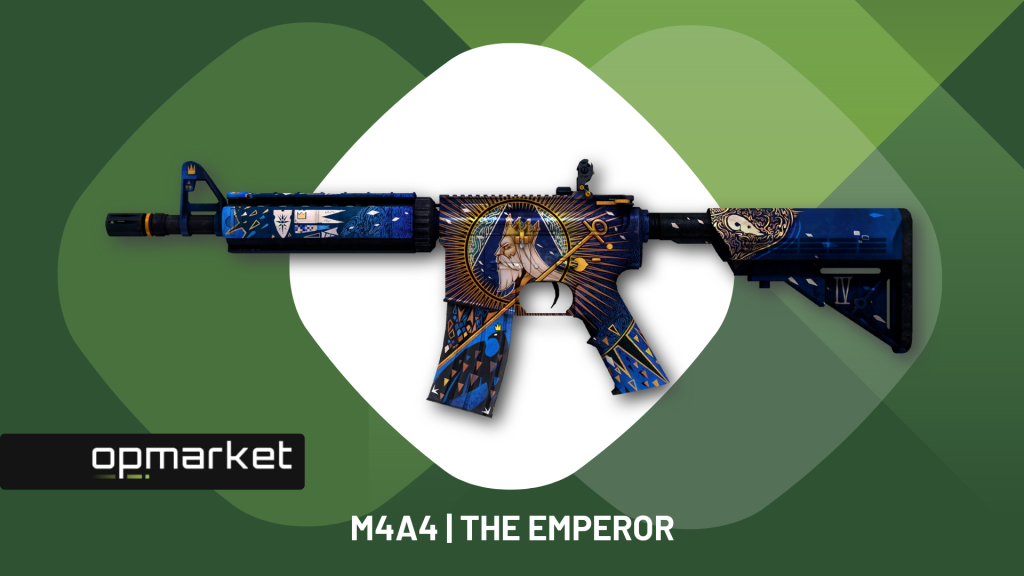 Bring royal power and kingly authority to your gaming with the Emperor skin. Every detail of this M4A4 skin shows off royal power, and it's a great choice for anyone looking to impress. It's also one of the cheapest options, if you're looking for a highly detailed and impressive weapon skin. Field-tested and cheaper versions are often available for lower than $15 at the Steam marketplace.
Flavor text: Lead with your head, even if it means ignoring your heart
Lowest Steam price: $29.69
Drops from case: Prisma Case
First added: March 2019
3. M4A4 | Desolate Space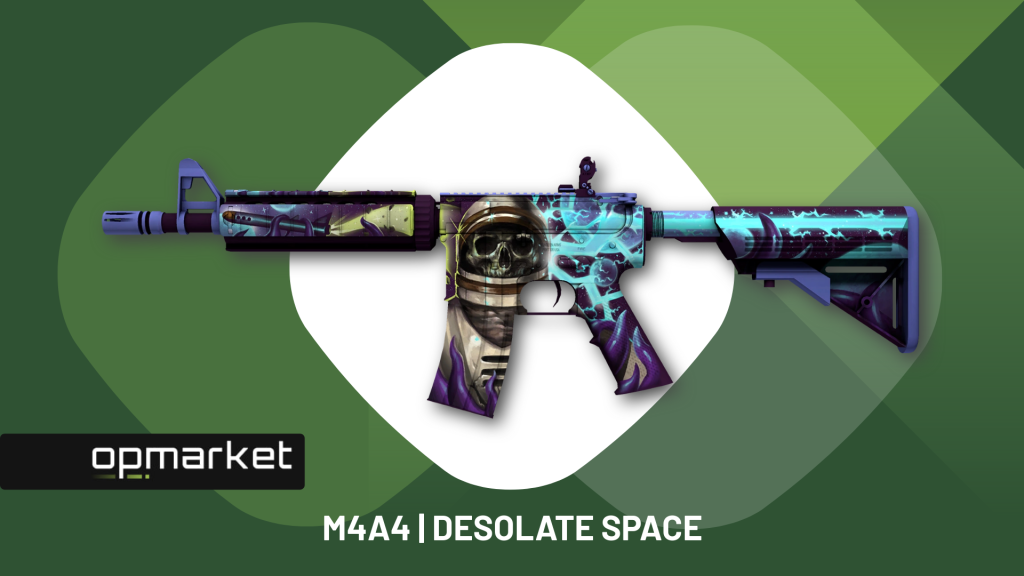 The Desolate Space skin if you're looking for something spooky and cheap for your assault rifle. This skin is a love letter to scary sci-fi movies, and features a highly detailed graphic design of a dead astronaut, warning of potential dangers that might lurk in deep space. It's also one of the best M4A4 skins in that price range, so if you want something that combines style with affordability, this skin is for you.
Flavor text: "We've lost contact"
Lowest Steam price: $5.24
Drops from case: Gamma Case
First added: June 2016
4. M4A4 | Bullet Rain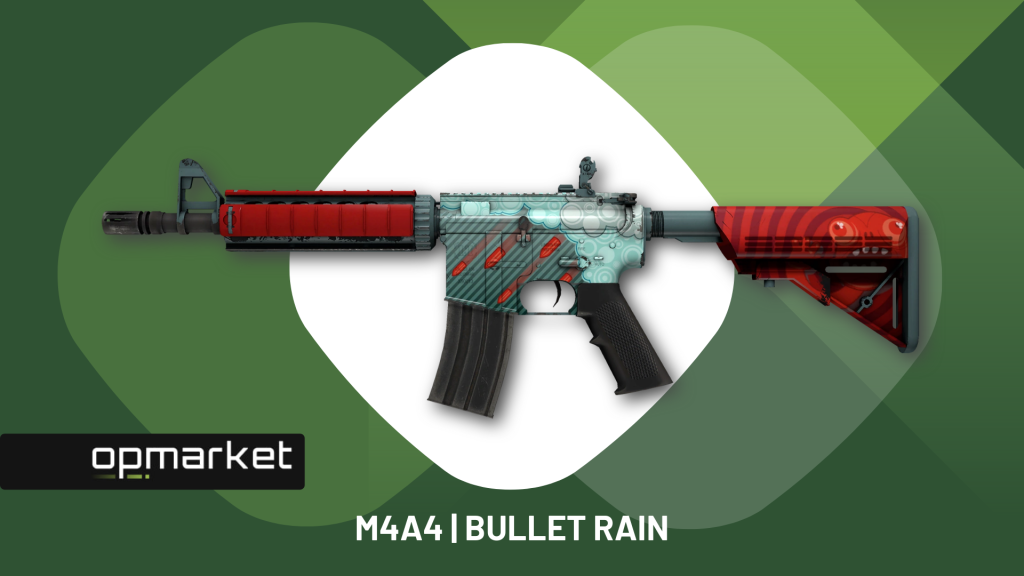 Make every shot count with the Bullet Rain skin for M4A4. Like its name suggests, this weapon skin is a reference to a literal rain of bullets from the sky. Although sporting quite a simple design, this M4A4 skin is still dearly beloved by the community of gamers, and is renowned for its awesome red design. If you're looking for the perfect M4A4 skin for your red CT loadout, Bullet Rain is for you.
Flavor text: Do it with style.
Lowest Steam price: $79.81
Drops from case: eSports 2014 Case
First added: November 2014
5. M4A4 | Howl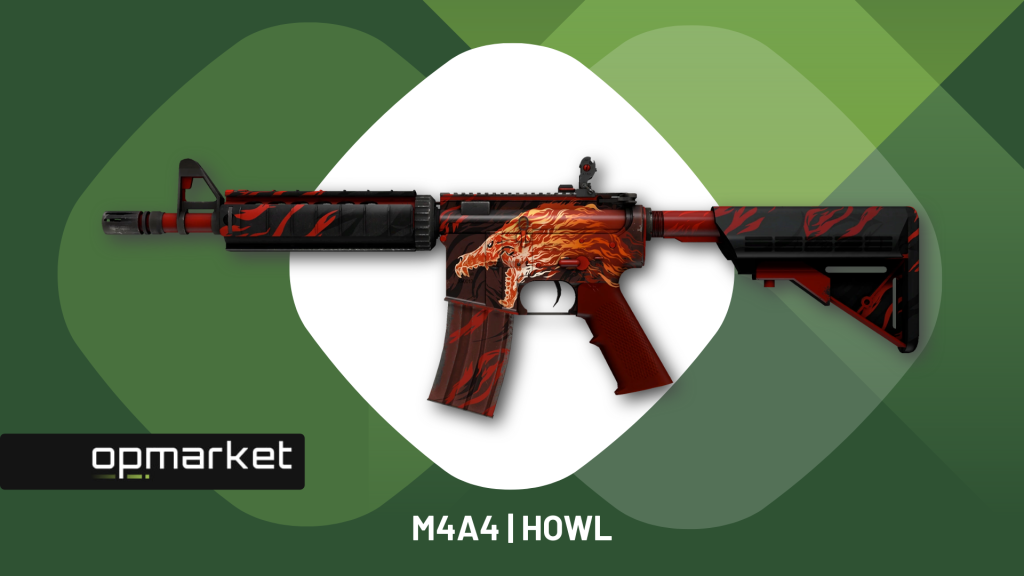 Unleash the beast within and take your gameplay to new heights with the Howl skin for the M4A4. Known for its legendary quality and fiery design, this skin brings a level of intimidation to your firefights like no other. Widely recognized as one of the most expensive CS2 skins, yet a worthwhile investment due to the design's unique fiery wolf, many players wouldn't hesitate to trade their best skins for this. skin redefines the gaming experience. The gun is actually no longer obtainable through means other than trading, making it one of the most expensive CS2 skins.
Flavor text: None.
Lowest Steam price: $3,163.77
Drops from case: None
First added: May 2014
6. M4A4 | Dragon King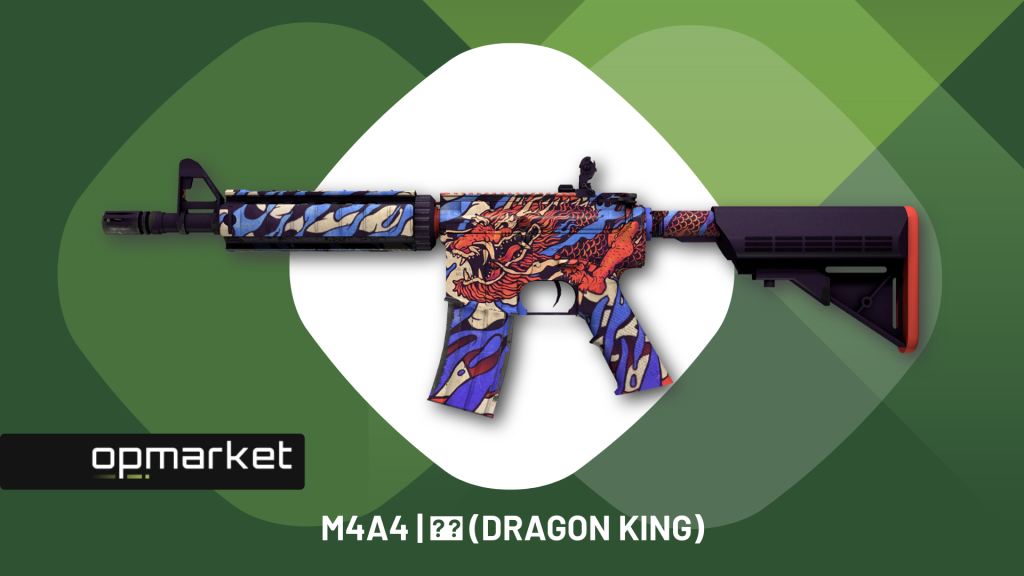 Unleash the power of your M4A4 with the Dragon King skin. This skin, a part of the M4A4 skins range, is designed to give your weapon a fiery and damaging presence in-game. Its also one of the best CS2 skins for any anime-styled CS2 loadouts. If you enjoy highly detailed weapon skins, the Dragon King is for you.
Flavor text: A weapon worthy of The Monkey King himself.
Lowest Steam price: $6.94
Drops from case: Chroma Case
First added: January 2015
7. M4A4 | Royal Paladin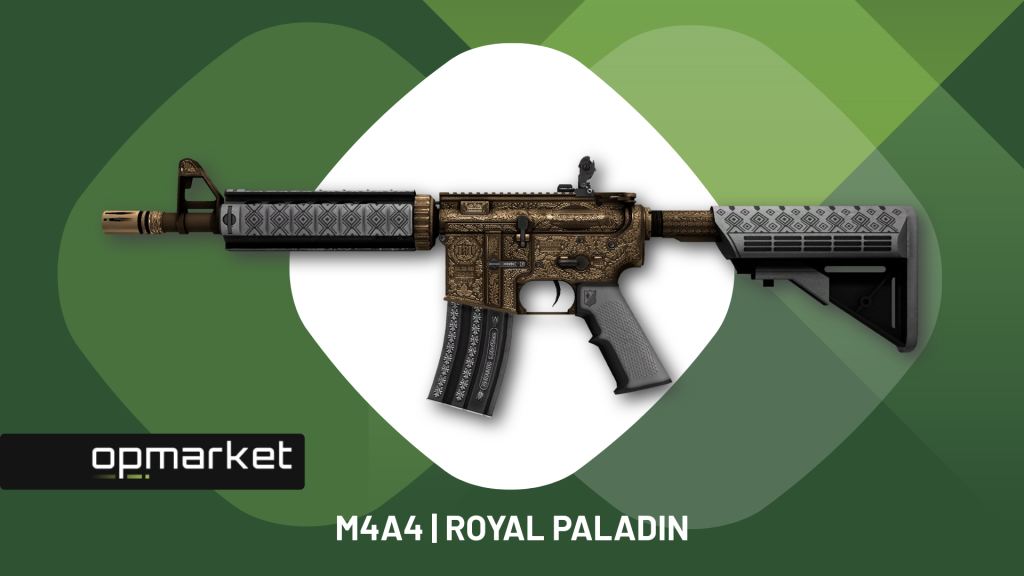 This M4A4 skin introduces details that deliver royal glory into the game. The high-quality Royal Paladin skin almost looks like a knight's weapon, and not a machine gun. It's also one of the cheapest M4A4 skins in the game, and is a great finishing touch for any silver or metallic loadouts, looking for assault rifle skins. If you want to get a Royal Paladin of your own, gamers who trade CS2 (CS:GO) skins are willing to let this weapon skin go for less than $10.
Flavor text: This phonecall never happened, do you understand? – The Paladin and the Father Part 1
Lowest Steam price: $6.91
Drops from case: Falchion Case
First added: May 2015
8. M4A4 | Poseidon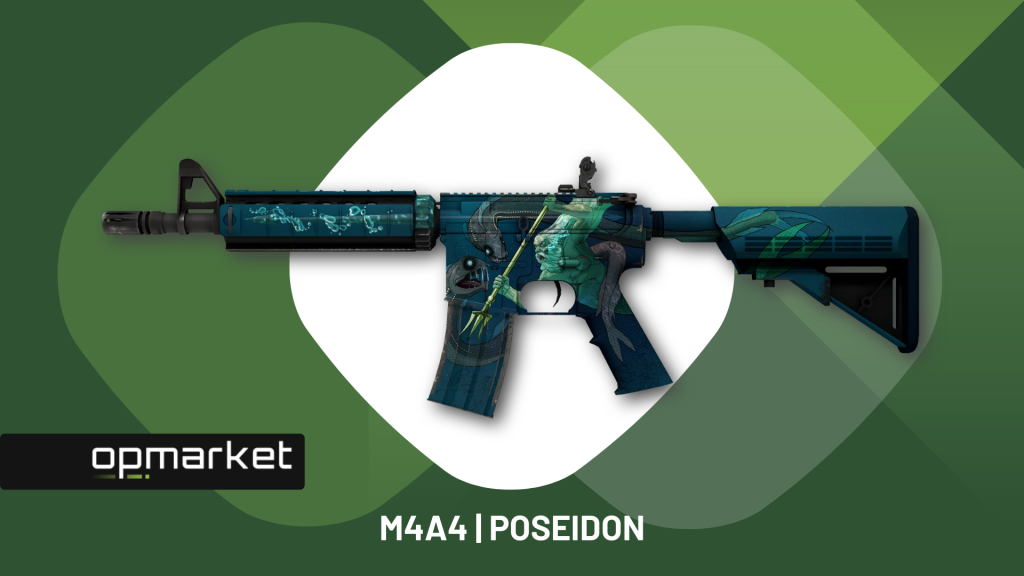 Every spray from your M4A4 will feel like a tidal wave with the Poseidon skin. A great addition to the high-quality M4A4 cs go skins list, the Poseidon adds a touch of the gods to the in-game experience. The skin might be expensive, but it will be considered a gem in your collection.
Flavor text: Mentha pulegium is a blessing for your senses.
Lowest Steam price: $1484
Drops from case: Gods And Monsters Collection
First added: September 2015
9. M4A4 | Neo-Noir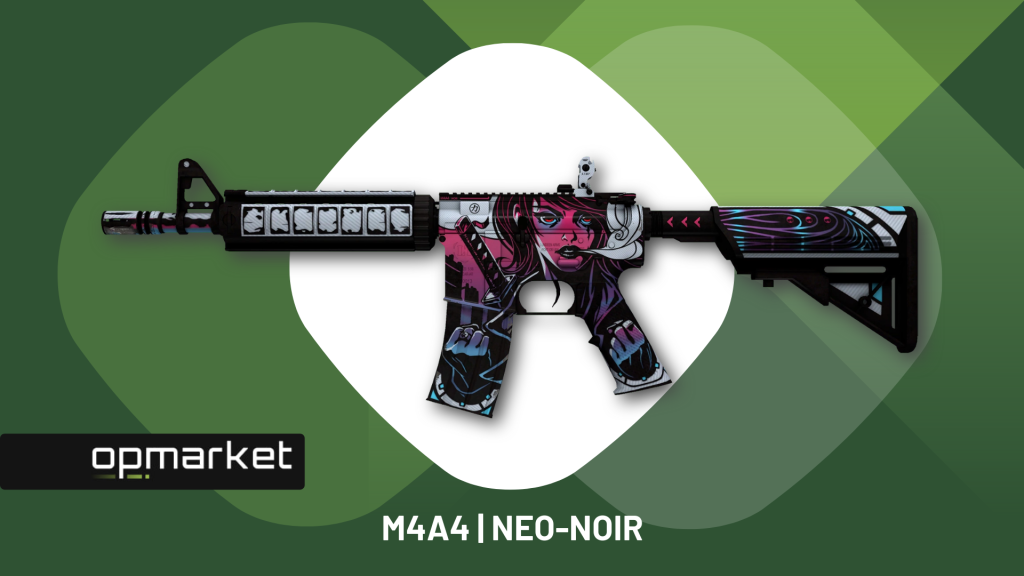 Neo-Noir is a fusion of modern aesthetic with vintage touches, designed to stand out in the CS2 battleground. One of the most popular M4A4 skins in the game, Neo-Noir features a Stellar design, making it a great choice for fans of comic books or cyberpunk aesthetics. It's also on the cheaper end of M4A4 skins, especially with such a beautiful design, so you can get it without wrecking your wallet.
Flavor text: "She grabbed what she could and disappeared into a decaying dystopia"
Lowest Steam price: $4.91
Drops from case: Clutch case
First added: February 2018
10. M4A4 | Hellfire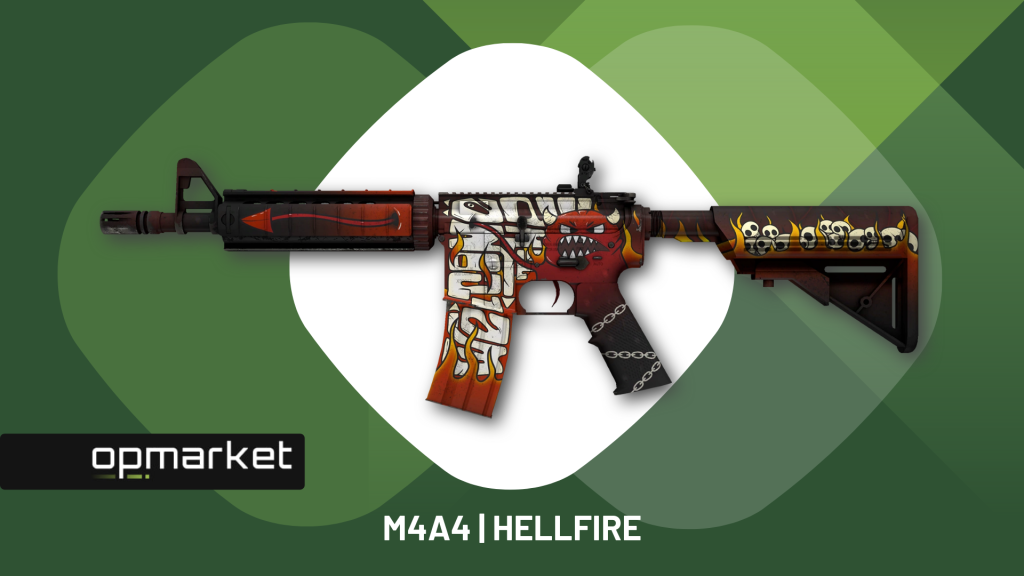 Send your enemies running for cover with the Hellfire skin. This high-quality M4A4 skin raises the firepower of your assault rifle to a sizzling level. The devilish graphics feature a flaming demon drawn in a cartoonish style, adding to the hellish theme of this weapon skin.If you want a fire-themed skin for your assault rifle, there really is no better choice.
Flavor text: And brim pebbles
Lowest Steam price: $49.66
Drops from case: Operation Hydra Case
First added: May 2017
In Conclusion
Here are some of the best M4A4 skins you can get in CS2 today. Remember, if you need some cash to purchase any of the skins on this list, head over to OPmarket, where you can sell CS2 (CS:GO) skins for best prices!